A healthy smile and beautiful, facially harmonious teeth are the dream of many patients. Until recently, this could only be achieved with traditional orthodontic treatment, which is burdened with many inconveniences. Wearing braces attached to the teeth makes it difficult to maintain oral hygiene, lasts an exceedingly long time (2 to 3 years), and is often associated with pain and numerous health complications from the stomatognathic system. Owing to tremendous advances in technology (artificial intelligence), we have been using the Invisalign system, which is free of these drawbacks and inconveniences for the patient.
---
What distinguishes the Invisalign system?
Invisalign is a system of unique clear aligners used to achieve proper tooth alignment and correct occlusion. The aligners are prepared individually for each patient on the basis of dental arch scans with an iTero intraoral scanner. Based on the scan and following an X-ray analysis, the patient is given a malocclusion treatment plan with computer visualization of the progress in subsequent stages of the therapy. The Invisalign system has been shown to be highly effective in a variety of clinical cases, such as overbite, underbite, open and crossbite, crowding of teeth, and dental gaps, etc. It can be used in both permanent and deciduous teeth.
Due to its high predictability, the Invisalign system is particularly useful in treating patients with masticatory dysfunction (joint, muscle, facial and head pain, bruxism). Treatment time is one of the main advantages of this system – therapy lasts at least twice as short as in case of fixed braces.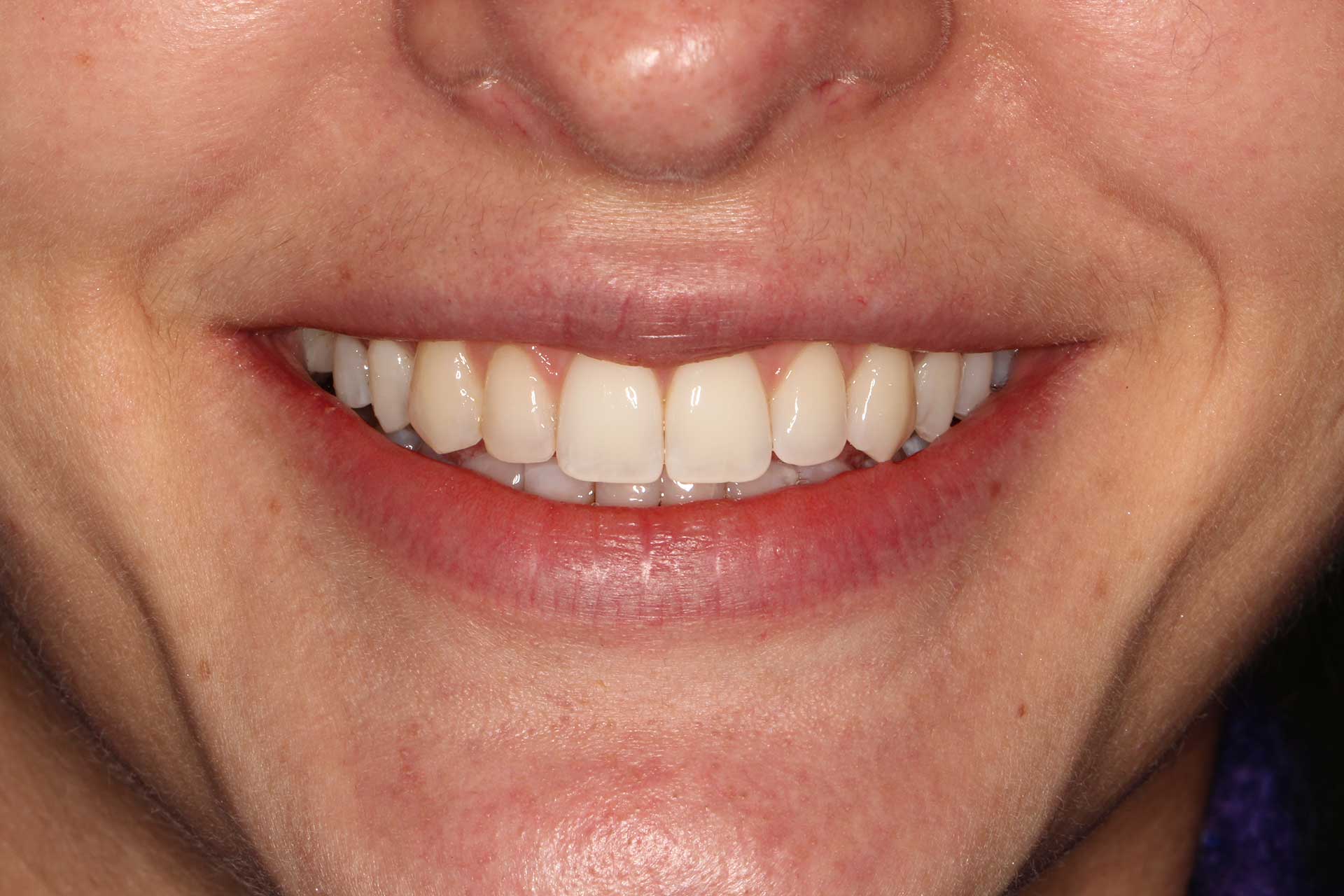 ---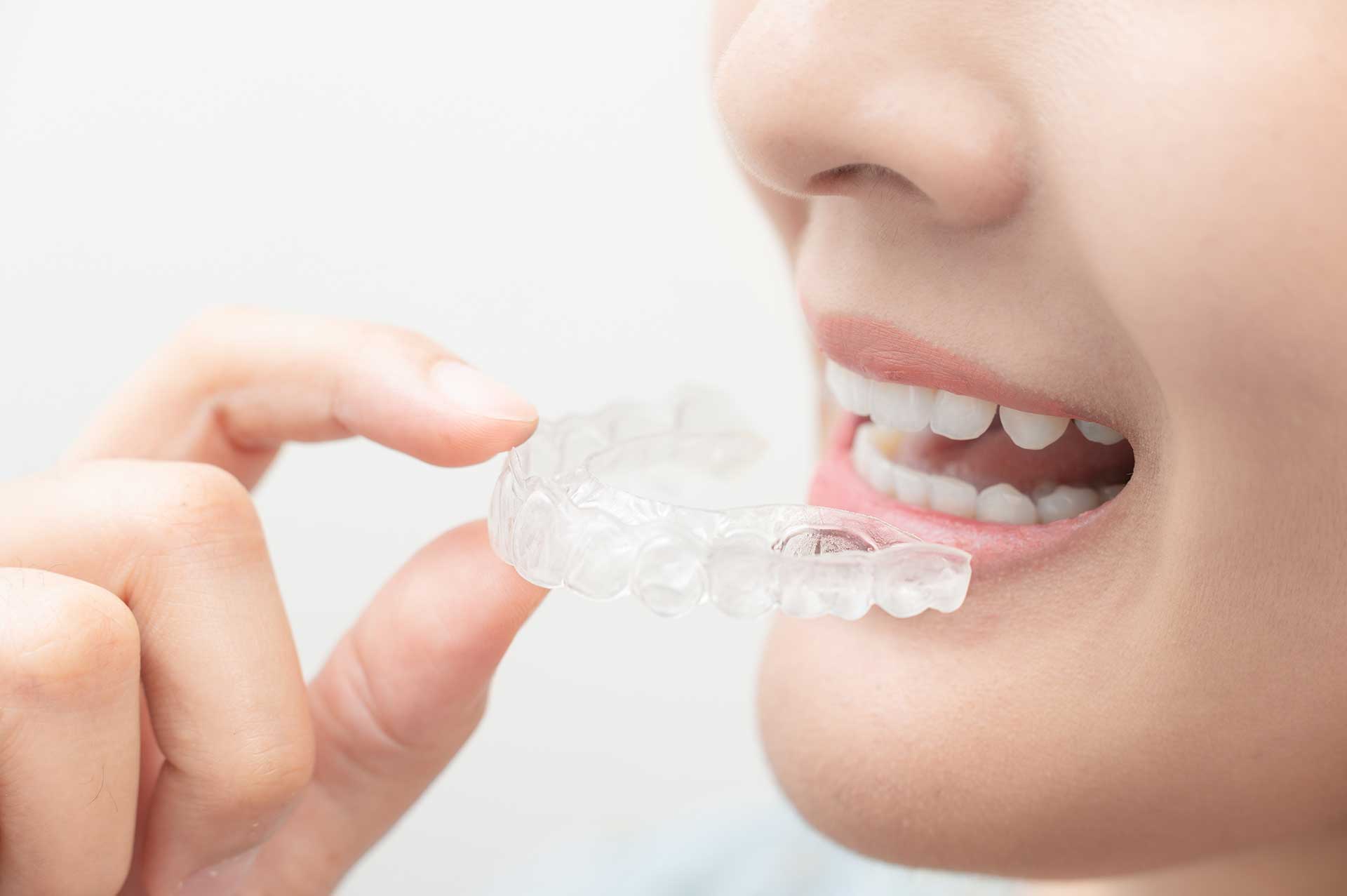 What does the treatment look like?
Treatment with Invisalign involves three main stages – examination and treatment planning, use of individually designed aligners, and maintenance of the treatment result with retention braces.
Prior to treatment, an X-ray/CBCT scan is performed, which serves as the basis for preparing a treatment plan using ClinCheck 3D software.
After calculating the pressure forces exerted by individual teeth during oral movements, special aligners are prepared (3D printed), which are perfectly adapted to the situation in the patient's mouth.
Invisalign aligners are worn for 7-14 days, then replaced with another set to account for the changes that have occurred during that time. The patient will notice a progressive improvement in their smile as early as after the first use of the aligners. It is recommended to wear Invisalign aligners for 22 hours a day, which in practice means that you should take them out only for eating and for brushing and flossing your teeth.
The primary phase of treatment under the dentist's supervision lasts about 6 to 8 weeks, depending on the extent of improvements expected. Follow-up visits usually take place every 6 to 8 weeks, according to the doctor's recommendations.
Once treatment is complete, the patient will – in some cases – receive a custom-designed retention appliance (Vivera retainer), which should be used every night to maintain the achieved tooth position.
---
Advantages of the Invisalign system
Invisalign aligners are nearly invisible, comfortable to wear, and convenient for patients to put on and take off, making it easier to maintain proper oral hygiene.
The innovative SmartTrack® material used to make the aligners is more flexible, which increases the comfort of use and allows the aligners to adhere very closely to the teeth.
The aligners are individually prepared for each patient – 3D printed using digital software.
During treatment, there are no indications to give up eating certain foods.
The patient's condition can be verified by the doctor every day through a patient-accessible app that helps even those who are not proficient in taking pictures to produce correct images.
The first effects of treatment with Invisalign aligners are visible after just a few weeks.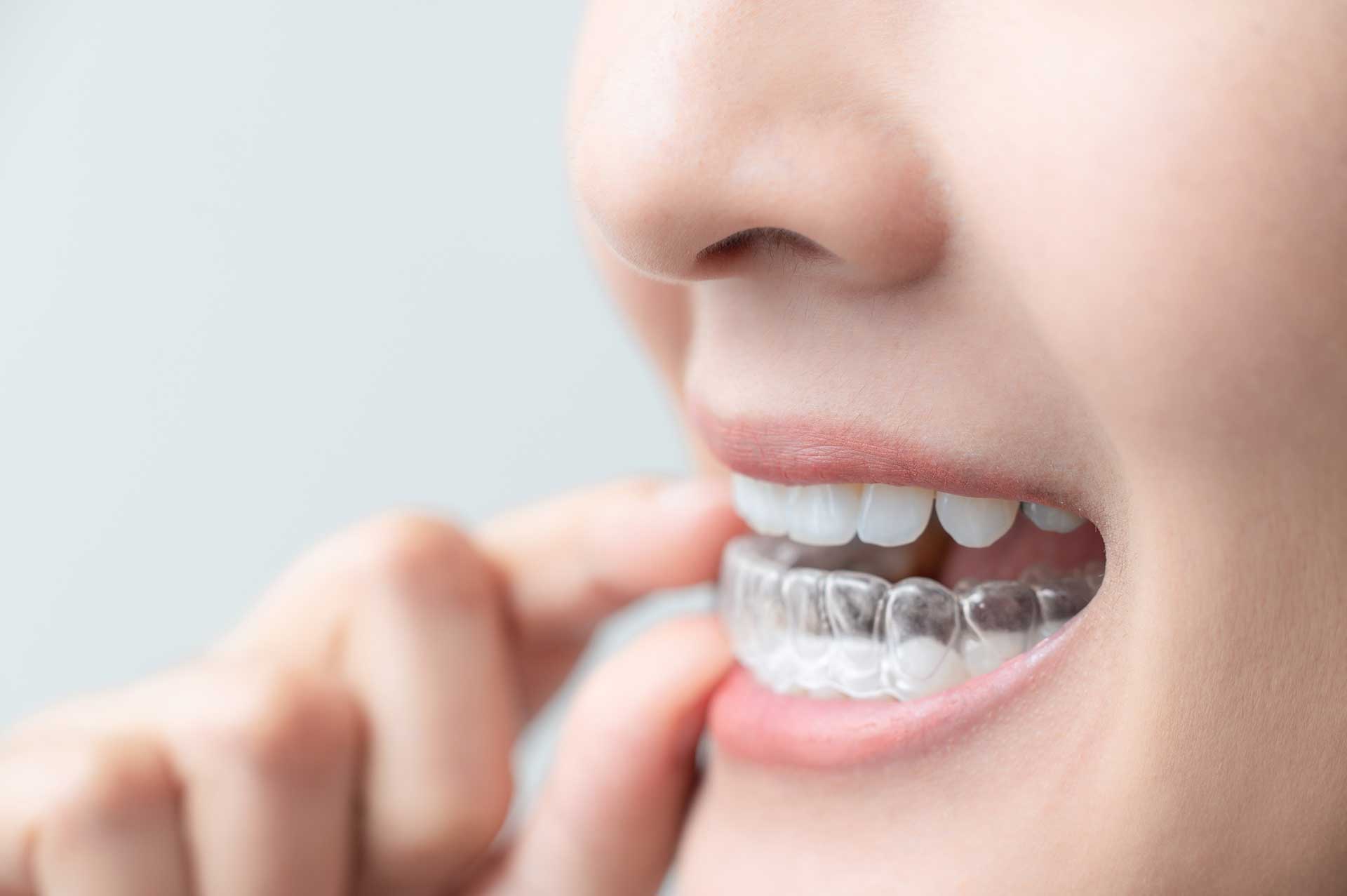 FAQ
Can I start treatment with Invisalign if I previously used traditional braces?
There are no contraindications to starting treatment with Invisalign aligners despite having used standard braces in the past. This system will work in almost any clinical case – from straightening teeth to treating more complex malocclusion. Furthermore, many people who previously used wire braces and whose treatment effect was not satisfactory, or their teeth returned to their previous alignment over time, choose Invisalign treatment.
Can a patient with veneers on their teeth undergo Invisalign treatment?
The question of whether a patient with veneers or other prosthetic restorations will be qualified for treatment with Invisalign cannot be answered conclusively. This depends primarily on the situation in the patient's mouth and the extent of the planned tooth movement – this will be determined by the treating doctor.
Do I need to clean my Invisalign aligners?
Yes! Since the aligners are in the mouth almost 24 hours a day, it is important to take care of their condition. It is recommended to clean them with a toothbrush and rinse with lukewarm water. You can also use Invisalign Cleaning Crystals or special cleaning tablets. Furthermore, brush your teeth after each meal before putting the aligners back on – this will help maintain good oral hygiene.
Is wearing Invisalign aligners cumbersome or uncomfortable?
No! There is no discomfort associated with using Invisalign aligners because they are individually designed for each patient and made with computer-controlled precision. They are even better fitting than tailored clothing or shoes. The flexible SmartTrack material of the aligners also makes them comfortable to wear. Another big advantage is that Invisalign aligners are almost invisible.
Is wearing retention braces at the end of treatment necessary?
In some cases, doctors recommend their patients who have already completed treatment with Invisalign aligners to use retention braces. Their role is important because they prevent the teeth from gradually returning to their pre-treatment alignment. However, the need for retention braces is determined by your doctor on a case-by-case basis.
How long should I wear retention braces after completing Invisalign treatment?
Not all patients are fitted with retention braces – it is up to the doctor to decide if this is necessary. It is also impossible to clearly define the time necessary for the changes obtained thanks to the Invisalign treatment to become permanent. The first set is worn at all times, and the subsequent sets are worn as directed by the doctor. However, the duration of use can be gradually reduced until it is sufficient to wear them at night.
Should the effect of 'loose' teeth during treatment be a concern?
No! The impression that the teeth are slightly less stable than before should not be alarming – it is evidence that the teeth are moving to the target positions that were set in the treatment plan developed at the beginning of therapy. In addition, the movement of teeth causes the gums around them to reshape. Any concerns or doubts that arise during therapy can be brought to the attention of the patient's treating physician on an ongoing basis.
Is it advisable to follow a specific diet during treatment with Invisalign aligners?
Unlike treatment with traditional braces, there are no restrictions as regards eating certain groups of food. This is because Invisalign aligners must be removed from the mouth for mealtimes. However, to avoid staining the aligners – for example, after eating foods such as berries or beets – brush your teeth before reapplying the Invisalign system.